Terminal 4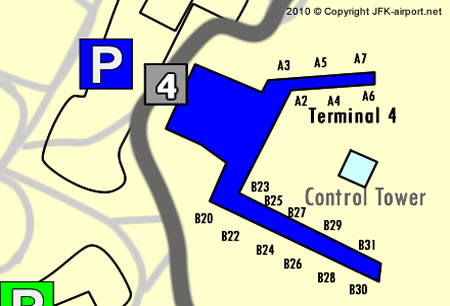 Airlines that operate from JFK Airport Terminal 4
Airlines
Phone Numbers
IATA Code
Air Europa
(844) 415-3955
UX
Air India
(212) 751-6200
AI
Air Jamaica
(800) 523-5585
JM
Arik Air
(877) 900-2745
W3
Asiana
(800) 227-4262
OZ
Avianca
(800) 284-2622
AV
Caribbean
(800) 538-2942
BW
China Airlines
(800) 227-5118
CI
China Southern
(888) 338-8988
CZ
Copa Airlines
(800) 359-2672
CM
Delta (International, LAX, SFO, SEA)
(800) 241-4141
DL
Egyptair
(212) 315-0900 ; 
MS
El Al
(800) 223-6700 ; (212) 768-9200
LY
Emirates
(800) 777-3999
EK
Etihad
(888) 8ETIHAD
EY
Jet Airways (India)
(877) 835-9538
9W
KLM Royal Dutch Airlines
(800) 374-7747
KL
Kuwait Airways
(800) 458-9248 ; (212) 659-4200
KU
Miami Air (charter)+
(305) 871-3300
GL
North American
(800) 371-6297
NA
Pakistan International Airlines
(212) 760-8455
PK
Singapore Airlines
(800) 742-3333
SQ
SkyGreece
(855) 781-8585
GW
South African Airways
(800) 722-9675
SA
Sun Country
(800) FLY-N-SUN
SY
SWISS
(877) 359-7947
LX
Thomas Cook Airlines
 
HG
Transaero Airlines
(877) 747-1191
UN
Uzbekistan
(212) 245-1005
HY
Virgin America
(877) 359-8474
VX
Virgin Atlantic
(800) 862-8621
VS
Volaris
(866) 988-3527
Y4
WestJet
(888) WESTJET ; (888-937-8538) res. ; (866) 666-6224 baggage
WS
XL Airways
(877) 496-9889
SE
Jet Blue
- International Arrivals, 10:30 Pm - 5:00 AM
(800) 538-2583
B6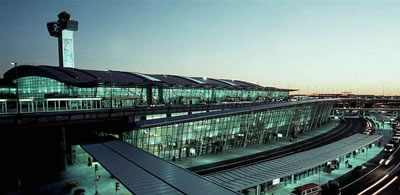 Terminal 4 Facts and Figures
The $1.4 billion T4 opened in May 2001. It is the cornerstone of a $10.3 billion revitalization program currently underway at JFK.
T4 is a model for air terminal technology for the 21st century.
T4 has signed agreements with approximately 50 airlines representing 40 countries, serving U.S. and overseas destinations around the world.
T4 occupies 165 acres, one of the largest properties of any terminal at JFK and is one of the largest air terminals in North America.
T4 was designed with the infrastructure to process between 10 million - 12 million passengers annually.
T4 operates the only facility at JFK's with 24 hour Customs and Border Protection, 365 days per year.
T4 houses the only internal station for AirTrain, JFK's light rail system connecting all JFK terminals, Long Term parking, Car rental and hotel locations, The NYC subway at Howard Beach and the LIRR at Jamaica Station.
T4 is home to 4 religious chapels- Catholic, Protestant, Jewish and Multi-faith, each with a dedicated Chaplain.